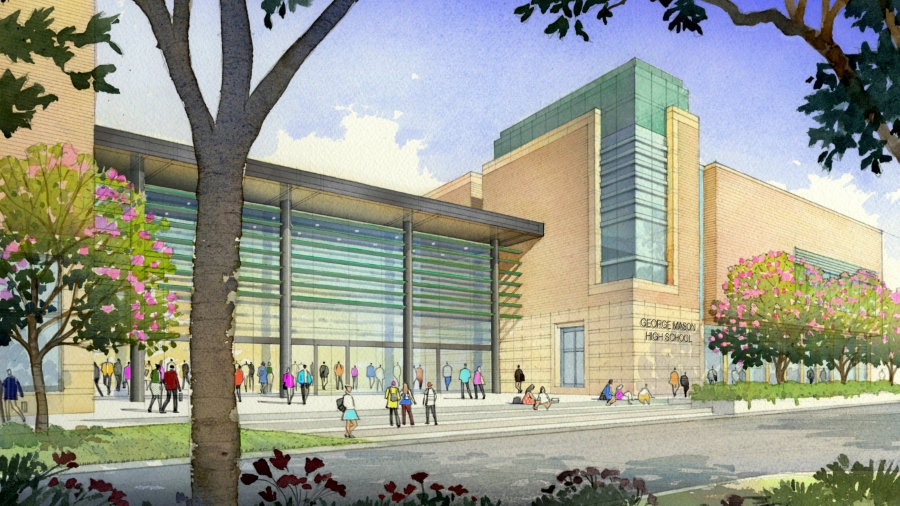 Here's a quick summary of the proposed new George Mason High School project; why there is a need, what will be built, and how the City is proposing to fund it.
THE BOND WILL FUND...
A plan similar to the "Community School" plan; a new five-story high school designed for 21st century learning, with 211,000 Sq Ft of program space that will accommodate 1200-1500 students.
WE PLAN TO BUILD BECAUSE...
The current building is over 60 years old and includes many systems that are at or past end-of-life. All current space is being used and enrollment is beyond capacity.
NEW CONSTRUCTION WILL INCLUDE...
An expected 100,000 square feet of brand-new classrooms, a new gym, cafeteria, media center, areas for STEAM education (including collaborative and interdisciplinary spaces), a 600- seat auditorium for GM/ MEHMS use, an outdoor courtyard with instructional space, and a new multi-use field.
THE CONSTRUCTION SCHEDULE IS...
Under the proposed schedule, school architectural design work will occur in 2018 and construction would take place in 2019-2021. In 2021, the old George Mason would be demolished to make way for commercial development construction, which can begin in 2022.
DURING CONSTRUCTION, CLASSES WILL BE HELD...
At the current George Mason High School until construction is complete.
THE NEW BUILDING IS EXPECTED TO LAST...
At least 50 years. Enrollment projections put George Mason's population at 1200 within 10 years and approaching 1400 in 15 years.
THE COST WILL BE...
A school feasibility Study conducted by the firm of Perkins Eastman has resulted in an anticipated total cost of $120 million.
THE CITY FINANCING PLAN...
The City would issue bonds in three phases, with a first bond to pay for school design in 2018, a second bond to pay for construction in 2019, and a final bond to pay for the completion of construction in 2020. The annual debt service for the bonds is expected to be approximately $7.4 million per year with a 30 year term to the bonds.
SALE OR LEASE OF 10 ACRES OF GMHS CAMPUS TO HELP OFFSET THE COST OF THE SCHOOL...
An economic feasibility study by the firm of Alvarez & Marsal estimates the City would earn potentially $43M from a long-term lease or sale of ten acres on the existing campus. In addition, City staff estimate net tax revenue from the site could exceed $3 million per year once fully developed. The payments related to the land lease/sale would be expected to begin in 2022; tax yield would be expected to accrue in 2025 as development is completed in phases. To bridge the financing gap, the City would rely on a combination of Capital Reserves (current balance $10 million) as well as real estate tax increases.
IMPACT OF OPERATIONAL COSTS DUE TO LARGER BUILDING...
Increases in operating costs are primarily driven by increases in staff, which are driven for the most part by enrollment increases. The increase in operational costs will occur gradually over time. We expect significant reductions in energy and maintenance costs with a new, efficient building.
WHAT'S THE ALTERNATIVE?
FCCPS will need to spend money to purchase trailers upgrade failing systems. An analysis of the critical improvement needs at the high school shows it would cost $40 million, probably in the form of a bond, just to cover replacement of the past end-of-life HVAC and boiler systems, permanently replace the roof, as well as other updates to infrastructure. This would not address enrollment growth projected for the high school in the coming decades nor allow for any income that would be generated by converting the current 10 acre campus into commercial development.